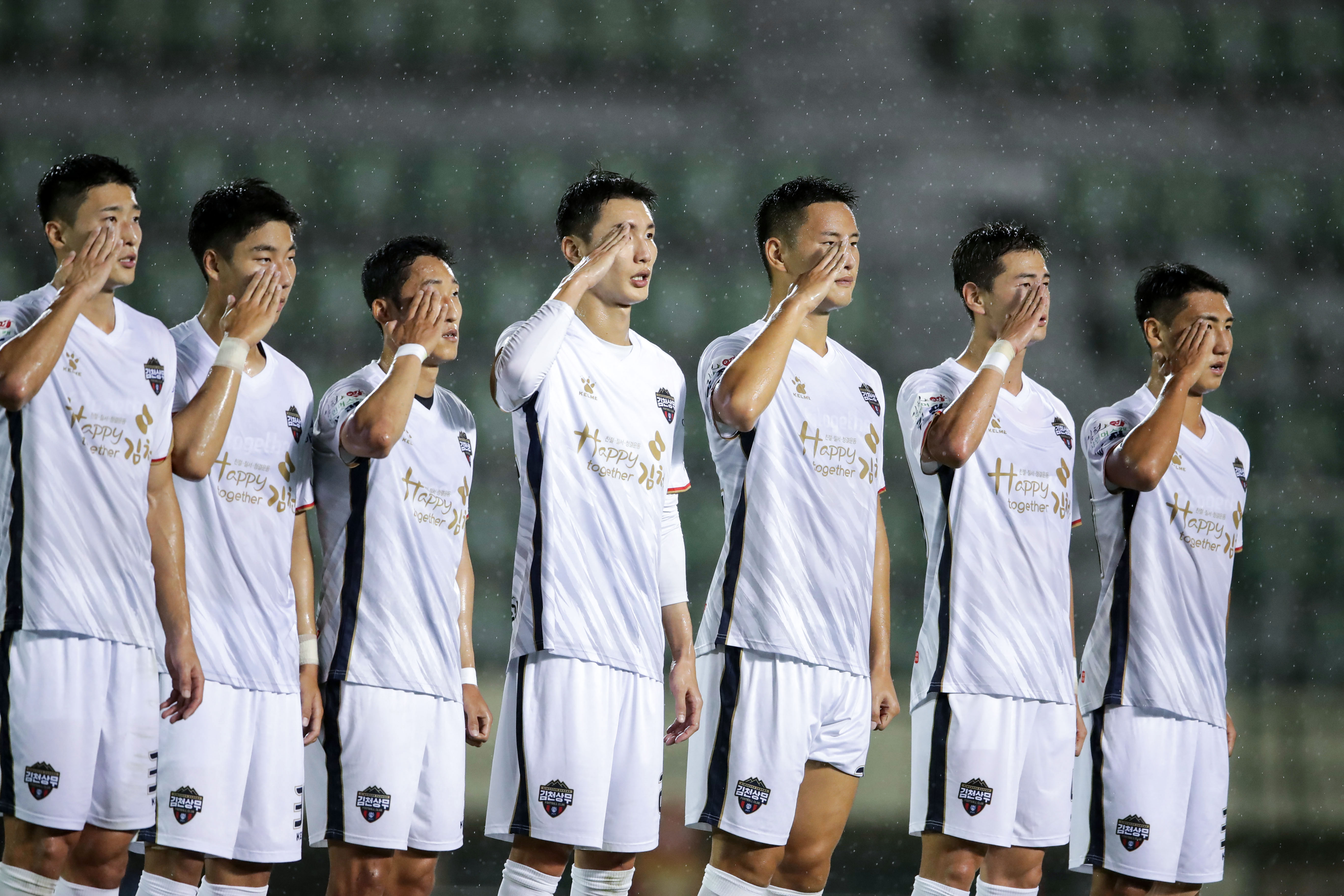 Hana 1Q K League 2 returns this weekend after an action-packed Round 26 saw Gimcheon Sangmu produce six of the best to climb to of the table. Gimcheon move across the south coast to Gwangyang this time out to face Jeonnam Dragons. Elsewhere, local rivals meet in Gyeongi-do as the Line 4 Derby recommences in Anyang, while Chungnam Asan host a Busan IPark side looking to bounce back in style.
Match of the Round
Jeonnam Dragons (4th) vs Gimcheon Sangmu (1st) - Sun 29th August, 18:00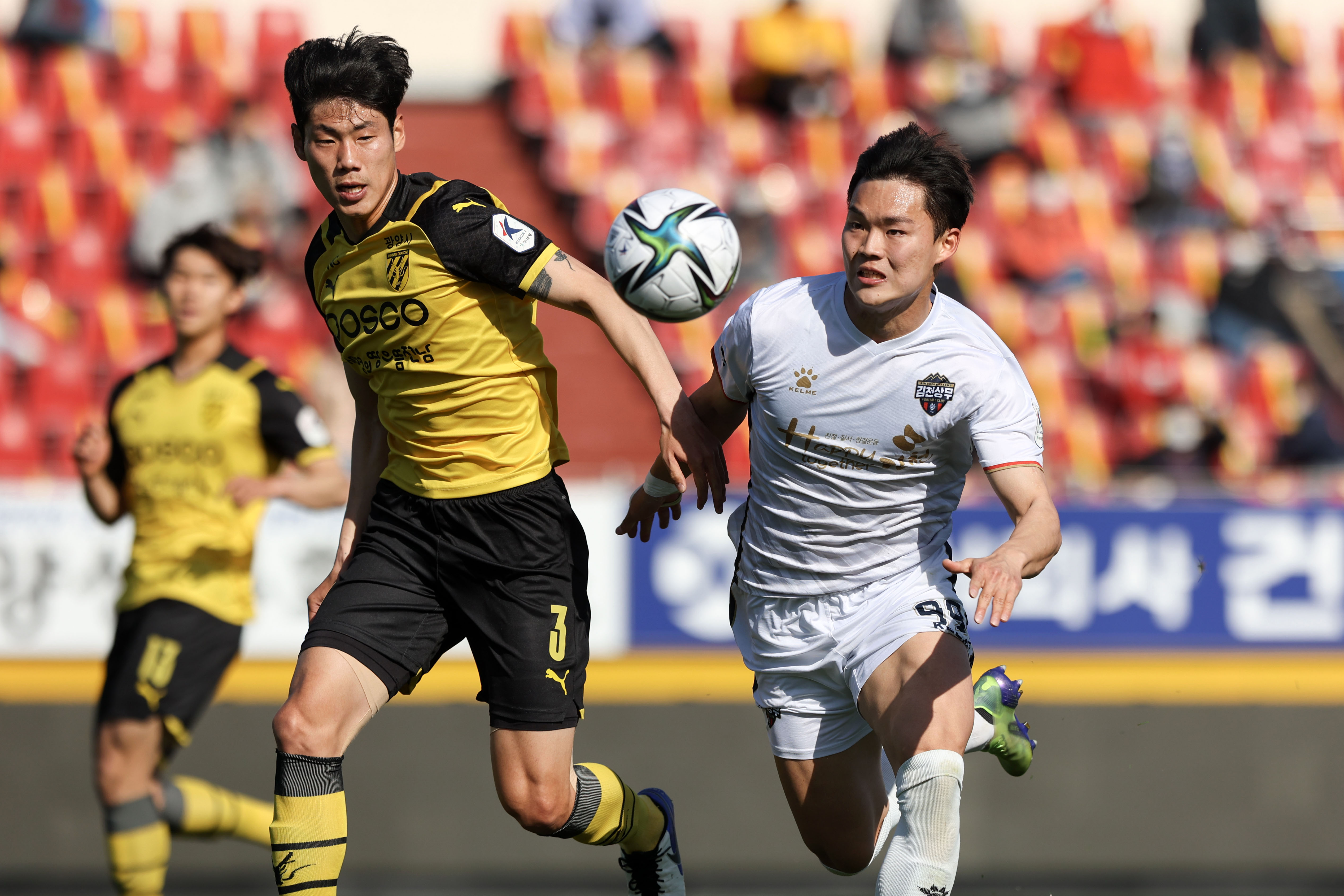 While the
#Line4Derby
looks an incredibly tasty prospect this weekend, many eyes will be cast upon Gimcheon Sangmu's trip to Gwangyang following their comprehensive win at Busan IPark's Gudeok stadium on Monday. 6-0 victors on the night, Kim Tae-wan's side scored three goals either side of half time to take top spot in K League 2 with Park Dong-jun and Heo Yong-jun both bagging a brace apiece. Ranking first league-wide in terms of possession, crossing accuracy and touches in the opposition box, Gimcheon also boast the division's second sturdiest defence to fall back on. The military side will be without defender Jung Seung-hyun this weekend through suspension.
Looking to breach a Gimcheon defence that has kept five clean sheets in their last six matches, Jeonnam are chasing a first home league win in five but did edge past K League 1 side Pohang Steelers to enter the FA Cup semi-finals earlier this month. Both prior games have been tight this season but the Dragons have taken four points off their title rivals this season. Samuel Nnamani's spot kick salvaged a late point away from home, while Kim Hyeon-wook's brace earned them a win in Gwangyang.
[READ: K League launches Green Kick Off FC]
Team of the Round
FC Anyang (Vs. Ansan Greeners, Mon. 30th August, 19:30)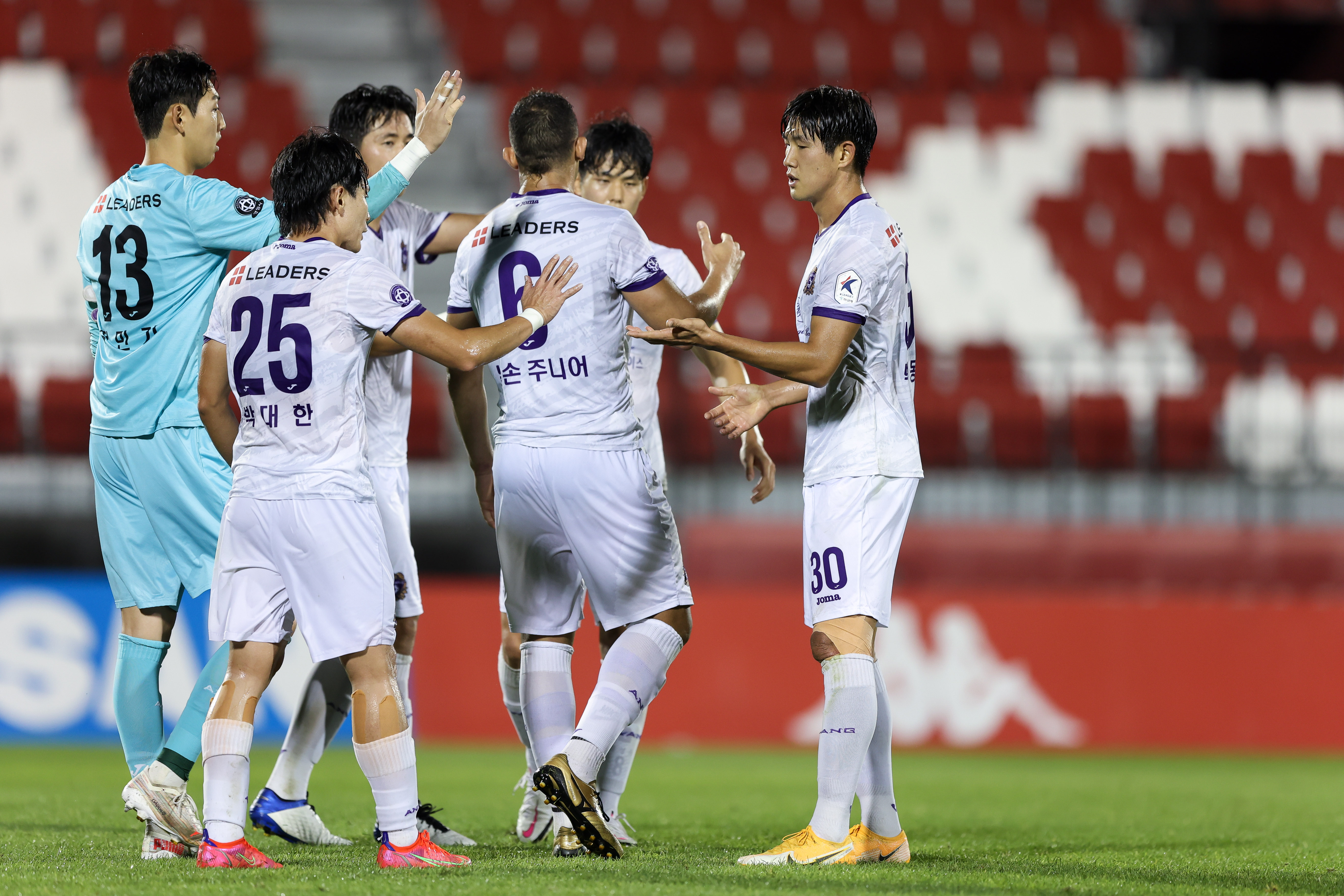 Taking one point from their last six outings, Ansan Greeners may not relish a fiery trip to in-form rivals FC Anyang. Lee Woo-hyung's Violets have pushed their way back into contention for the title in recent weeks, notching three consecutive wins on the road to climb up to second in the table. Boasting one of the division's most prolific strikers in Jonathan Moya, who has bagged three in his last four appearances, Anyang are an attacking force to be reckoned with having found the net in their last eight matches.
Recent history between these two sides however, is firmly on the side of the Greeners. Taking six points from Anyang this season already, the Violets have struggled to cope with the attacking play of Kim Ryun-do in particular, who has scored three times in the two games earlier this season. However, up against a high-pressing Anyang side who have scored the most goals in K League 2 in 2021, Ansan's defence will have to be on top of their game too.
Player of the Round
Kim In-kyun (Vs. Busan IPark, Sat. 28th August, 18:00)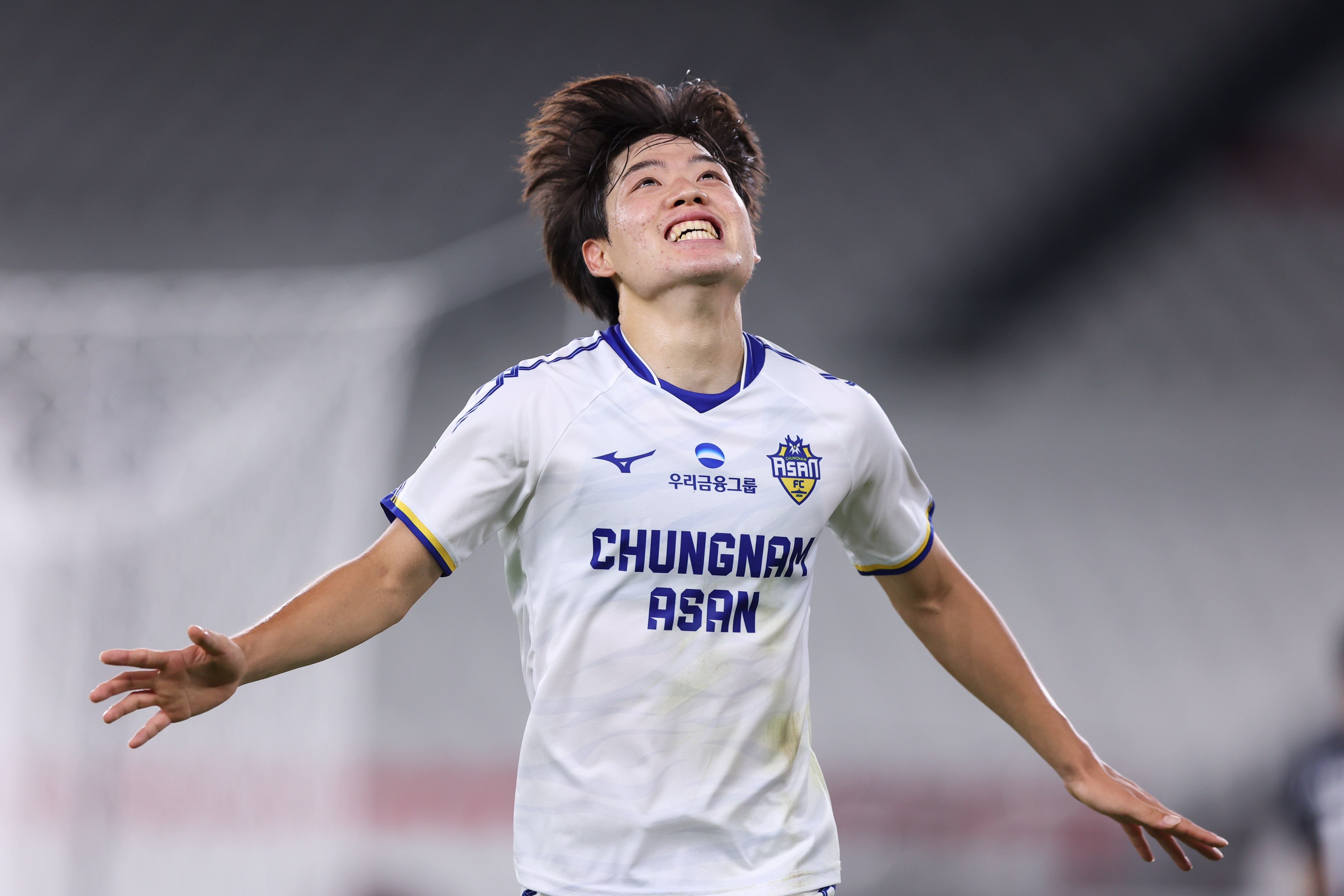 Chungnam Asan's number 14 is arguably the second tier's most valuable left wing-back this season. Playing all along the left-hand touchline for Park Dong-hyuk's side, the 23-year-old has netted on six occasions including a brace against Seoul E-Land earlier this month. With the Owls hosting four of their next five fixtures at home, this could be the perfect time for Kim to shine and ignite a late play-off push.
Statistics demonstrate Kim's improvement this season, standing as the fifth most successful dribbler in the league with a success rate of 64%. He is also clearly not shy when it comes to the physical side of the game either, ranking highly in terms of aerials duels per game. The youngster scored in this fixture earlier this season just a minute after coming off the bench.
K League 2 Round 27 Fixtures
Saturday 28th August
#CAFCvBUS
: Chungnam Asan (7th) vs Busan IPark (6th) - 18:00
#BUCvDHFC
: Bucheon FC 1995 (10th) vs Daejeon Hana Citizen (3rd) - 19:00
Sunday 29th August
#JDFCvGIM
: Jeonnam Dragons (4th) vs Gimcheon Sangmu (1st) - 18:00
#GYEvSEFC
: Gyeongnam FC (5th) vs Seoul E-Land (9th) - 19:00
Monday 30th August
#Line4Derby
: FC Anyang (2nd) vs Ansan Greeners (8th) - 19:30
Where to Watch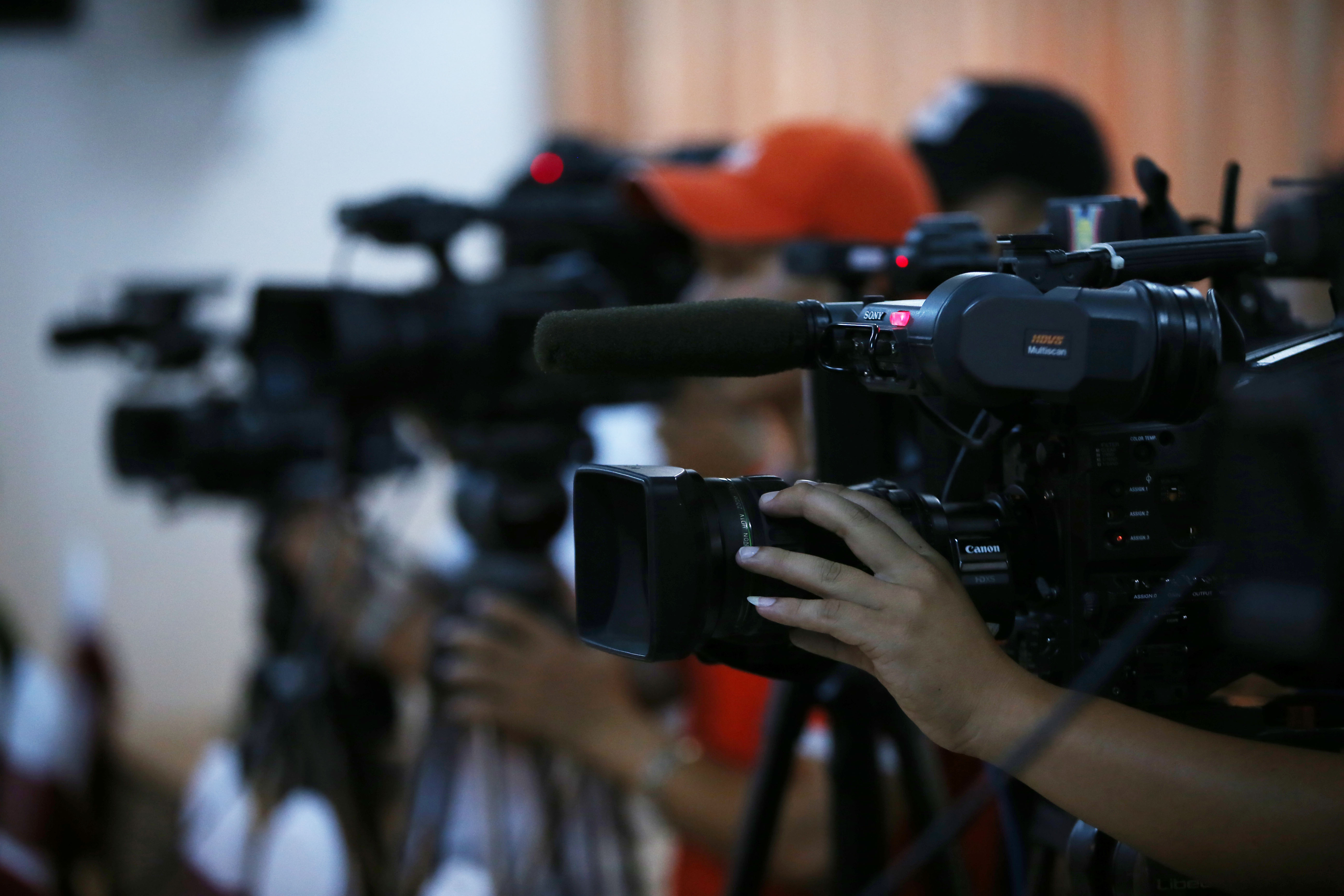 Fans in countries with K League overseas broadcasting rights can follow the game live on television. More information can be found
here
.
Alternatively, the matches are also available for FREE on
tv.kleague.com
K League United Assistant Editor