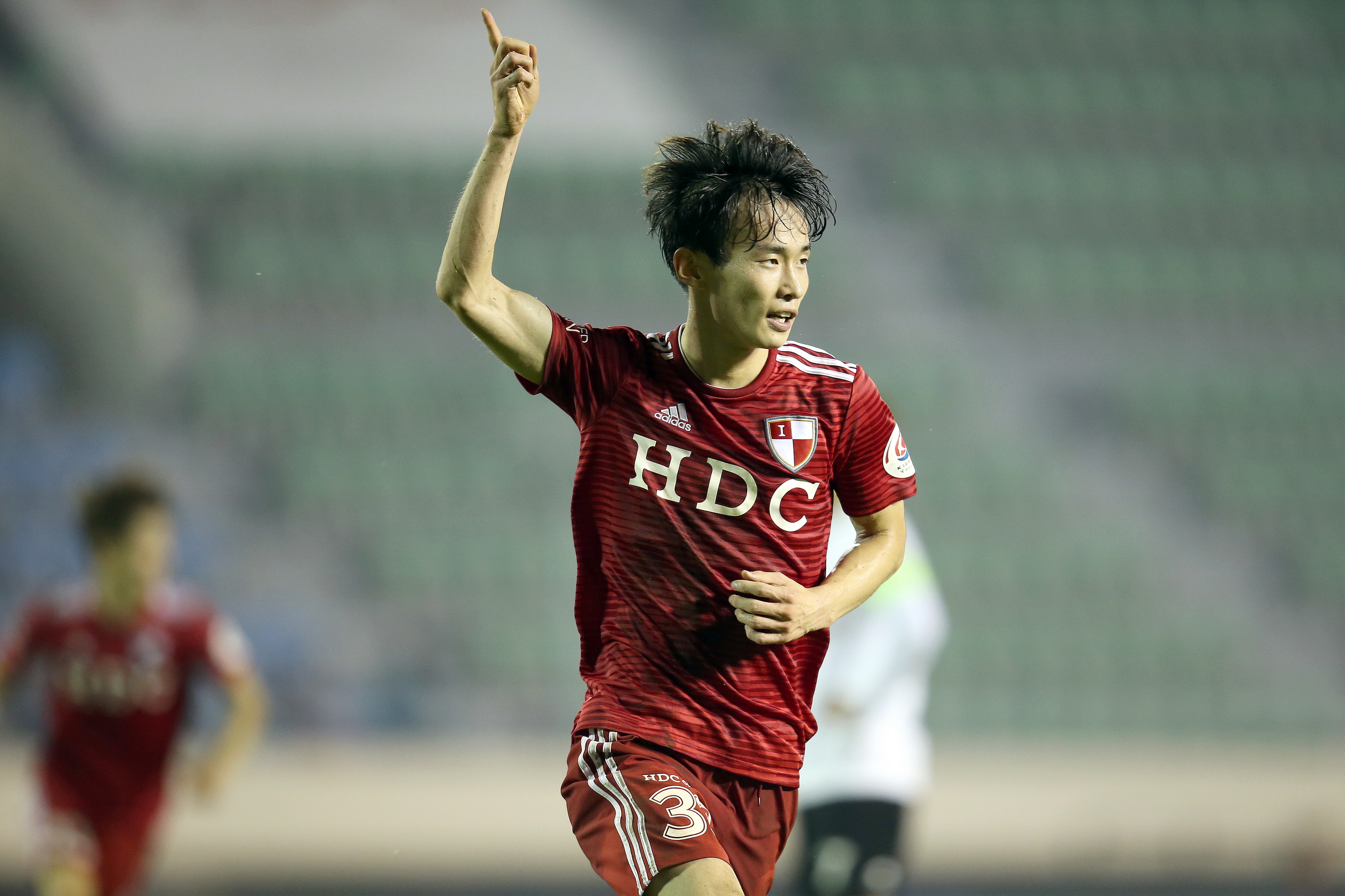 Busan IPark FC 1-1 Bucheon FC 1995

Rising star Kim Moon-hwan capped an impressive return to club football by scoring a long range screamer to rescue Busan IPark in front of an energetic season high crowd of 4,472 at the Gudeok Stadium.
Kim Yun-Jub had earlier taking advantage of disinterested defending to put Bucheon ahead, before the away side spent most of the game parking the bus to prevent Busan from getting the three points they needed, as the home side look set for a battle to finish in the playoff places.
After Seongnam were held by Anyang and Asan defeating Gwangju on Saturday, IPark went into this match needing a win to take them within 7 points of both sides at the top. With regular starting CM Lee Jae-kwon suspended after his red card against Daejeon Citizen, Busan coach Choi Yun-kyum opted to start his team in a 5-2-3 formation, utilising the returning Kim Moon-hwan and Park Jun-gang as full backs to offer his team width beyond a Bucheon side that had conceded a league high 39 goals so far this season. However, this lack of numbers in midfield made Busan look lightweight in the opening stages, as Bucheon found space easily between the home team's defence and midfield.
Bucheon's creative midfielder Moon Ki-han had much success in the opening period firing direct passes towards the Busan back line for pacey attackers to chase, causing chaos for Busan's central defensive trio - particularly for reserves Ku Hyeon-jun and Kwon Jin-young, making his first league appearance of the season. It was the latter that was at fault for the opening goal, as Moon's hopeful ball into the box was not cleared or passed out of trouble, and Kwon was robbed in possession by Bucheon rookie Kim Dong-hyun. The youngster smartly looked up to see 2 away shirts criminally unmarked in the box, and found Kim Jun-yub to clinically convert into the bottom right corner from 12 yards out.
Bucheon almost made it 2-0 soon after, Moon Ki-han splitting the defense to this time put Kim Dong-hyun through one on one with the goalkeeper after a well-timed run, however IPark stopper Kim Hyung-geun redeemed his defense saving low to his left. Busan were allowed most of the possession from this point onwards but were frustrated in the first half as their midfield was smothered by Bucheon's, and space in the final third was at a premium.
IPark were restricted to half chances before the interval, Lee Dong-jun curling the ball wide from 20 yards out after good pressure by Bucheon defender Jang Soon-heyok, before Kim Hyun-sung couldn't keep his header on target after Kim Moon-hwan did well to craft some space on the right wing for the cross.
At half time, Busan coach Choi Yun-kyum gave the hairdryer treatment to his players, and made two attacking changes, bringing on dangerous winger Han Ji-ho for beleaguered defender Jeong Ho-jeong and top goalscorer Ko Kyung-min for the ineffective Song Chang-ho. IPark lined up for the second half with 4 at the back, pushing Ko into a more advanced position in support of the main striker whilst both full backs looked to push high up the pitch to win the ball. Busan came out looking like a completely different team as they laid siege to the Bucheon goal, creating a string of chances against an increasingly unambitious away side. Ko Kyung-min on four occasions showed good awareness to get himself into goalscoring opportunities, however was unable to keep his shots on target, being set up by a pin point crosses from fullbacks Kim Moon-hwan and Park Jun-gang, and receiving the ball in front of goal from Ko Kyung-min and Lee Dong-jun.
After all the great pre-game fanfare, it seemed inevitable that Asian Games gold medalist Kim Moon-hwan would steal the limelight. Kim, the academy graduate who won his first 2 caps for the Korea Republic national team under new boss Paulo Bento, produced a contender for goal of the season. Kim started the move, dispossessing a Bucheon player in his own half. Romulo picked up the ball in space, attempting to find Kim Dong-sub with a chipped ball over the top, but it was cleared by Bucheon defender Jang Soon-heyok only as far as Kim, who hit a left footed drive from 25 yards out with venom into the bottom right corner, despite the ball spinning awkwardly when the ball was hit.
After this, Busan sensed Bucheon were vulnerable and pushed for a winner in the final stages, the away side defending desperately to clear their lines as Busan went the aerial route to put pressure on the backline. On several occasions, Busan players were primed to shoot but last ditch tackles prevented shots at goal. In the 76th minute, substitute Kim Dong-sub drew a foul in one such occasion 20 yards from goal. Romulo almost scored from the free kick which was well saved by Choi Cheol-won. Kim Moon-hwan's pinpoint cross from the subsequent corner then met Kim in a brilliant position in front of goal, but he failed to connect properly and his header was easily saved. Full time was blown soon after, and Busan failed to convert an optimistic second half performance into 3 points, and now lie third level on points with on-form Daejeon Citizen. The crowd went home happy however, as Busan's newest sports personality Kim Moon-hwan stopped for autographs with several hundred people after the game.
Busan IPark next play at home to title challengers Asan Mugunghwa, on Saturday 22nd September at 7pm. Tickets are 10,000 won and available from the ticket office on the day. Looking ahead, IPark have announced their home game against Seoul E-Land on 14th October will be an International Day, with more information to be published soon.

Edited by International Ambassadors of Busan IPark FC

* The Busan IPark International Ambassadors are a group of volunteers and soccer/football fans from the expat community in Busan that are helping to promote the club to International and Domestic Fans around Korea and beyond