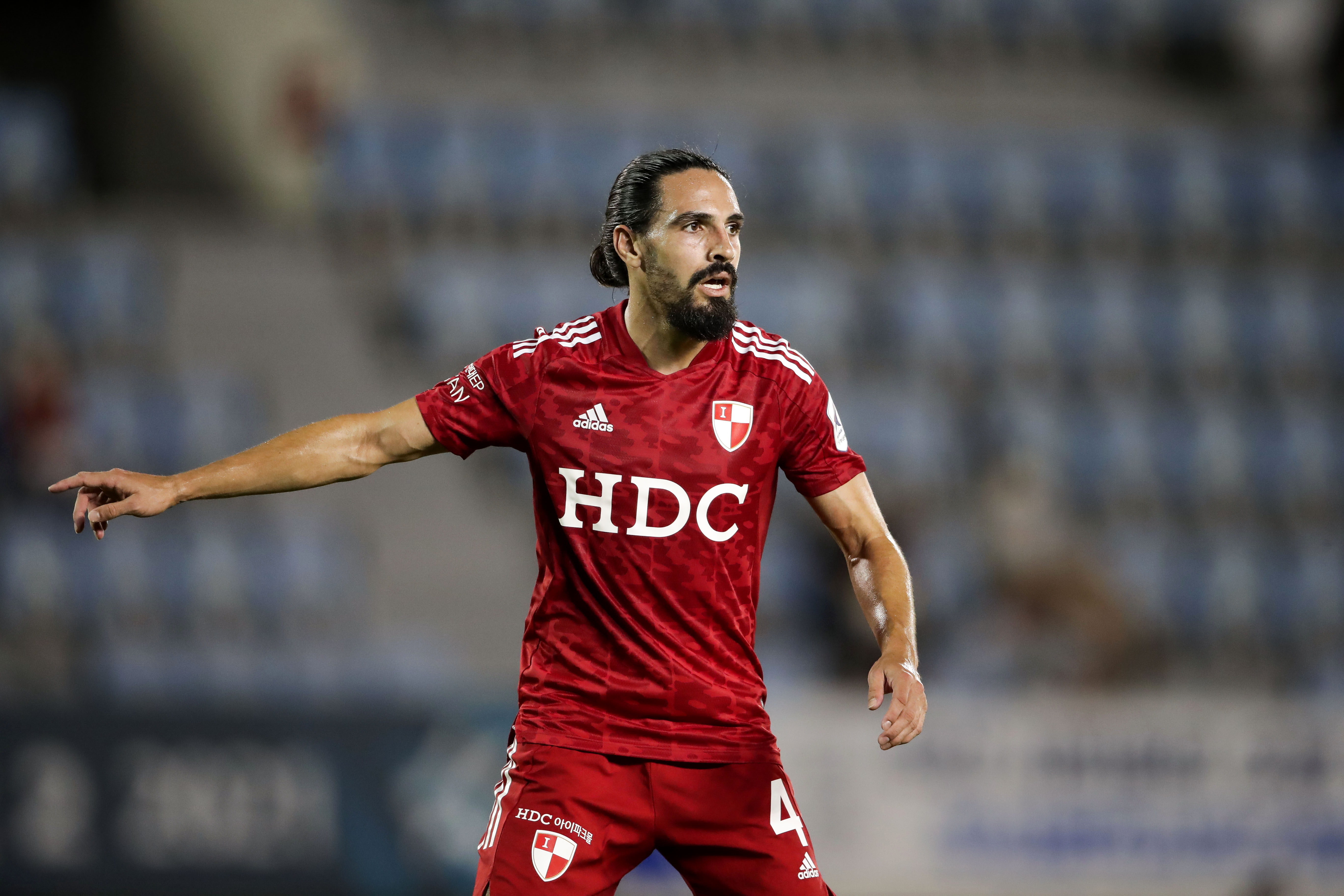 Arriving in Busan from English League One club Burton Albion, Australian midfielder Ryan Edwards is becoming one of the key members of the current Busan IPark squad after his summer transfer. Nicknamed the 'Australian Kante' by his Korean teammates because of the distance covered and his range of passing, Edwards has already demonstrated his adaptability on the pitch, and he is also doing his best to adapt to life off it in his new surroundings. K League United columnist Lee Dowon spoke with the defender about how he is finding things in K League so far.

Dowon Lee: So it's one and a half months since you arrived here, including the self-isolating period, so what is your first impression about the city and the club?

Ryan Edwards: Yeah, honestly I had researched a little bit of Busan as a city before I arrived, and the research is better in person. The experience here so far has been really happy for me. To be able to see mountains and the ocean is fantastic. I think it's very nice to have nature here in Busan. You almost get the best of everything in this city. I think the food is incredible too. The people have been really welcoming and warm to me. So I'm super happy and grateful. My wife is here now she's finished quarantine as well and we have a small dog, so they feel the same way and they're really happy.

And then going into football, the everyone from the office to the kitchen staff to my new teammates, Korean teammates, and foreign teammates. Everyone has been really warm and welcoming. And I feel like, I've been here one and a half months but I really feel like I'm not a new player. I feel like I've been here for a long time so I think that's a real credit to Busan as a city and Busan IPark as a football club.

DL: Like I said before, it's one and a half months since you arrived here and most players that come to K League before believe that there is a good quality in the division, but due to the high intensity of the matches, it can be difficult to show your full range of skills on the pitch. How are you adapting your playing style to be more effective in this environment?

RE: Yeah, I think one thing that the club has done really well when I was in quarantine, was I was able to have one on one zoom meetings with the technical staff. I need to understand how the team wants to play, so I got to watch a lot of footage and do some football studies for myself. I knew I was arriving at Busan quite early so I watched 5-7 games from Europe, which got me to become familiar with the style of the opposition and my current team.

I'm happy with how the level is and the tempo and the intensity. I think it suits my style of play. I think, hopefully, the fans can see so far in my performances that I'm a high-intensity type of player and so it's been good. I don't feel like I've had a lot of adapting to do. Of course, I want to help the team more and make more contributions for us to get better results and for me to help the team if I can contribute more assists and goals then, of course, that is good, but I want to help the team as much as possible. So coming from Scotland and England, where the tempo and intensity are high, coming here is a good level of adaptation for me. I guess the most difficult thing, especially in my first game, was the weather. I experienced cold temperatures in England. So to get used to that humidity and heat was probably one of the most challenging things, rather than the intensity of the game.

DL: I want to ask about your experience. I know you are a foreign player and new to the side but, even at a 27-years-old, you are one of the most experienced players in this young squad. Do you relish this opportunity or does it put any pressure on you?

RE: I'm relishing it. Definitely. Throughout my career, I've always been drawn to being a person that wants to help the team and be a leader and lead by example, whether that's through speaking or through my performances or the way I train, I want to have a positive effect on the group of players and one of the main reasons why I was attracted to Busan IPark was this project, the long-term picture for Busan. I don't want to be just one foreign player that comes for a short period and then leaves. I want to stay here for a long time and help the team's project.
I know we're in K2, but Busan is a team that deserves to be in K1. We've got some very good players, and I want us to use [them]. Yeah, I'm 27, I'm still young, I want to learn and become better but I want to use my experience that I've had so far in my career to help the young players in the squad for one, for us to push for promotion and to hopefully give them some advice and, bits of information that can help them because I believe there are some players in our squad that could have very good careers, good potential, and they could potentially go play in Europe. Personally, I do believe this.

DL: I want to ask you about your studies. I've seen you successfully studied for a UEFA B license in Scotland, and whilst you were studying psychology at the University of Manchester. What's the reason for studying these?
RE:
Well, I feel that football is a very short career and now I'm more experienced it is important to have something that you can focus on outside of football and prepare yourself for after football. but I also equally think it helps your performances on the pitch as well.
The UEFA B license that I did in Scotland is something that I'm interested in; maybe the coaching side.

I'm not sure if I want to become a coach or not, I'm not sure yet, but to learn about that side of the game was important for me. It's a good level of a licence to see if I want to take the UEFA A towards the end of my career.

And, I studied psychology. It's an area that I have a massive passion about. I feel psychology is getting more involved in the sport as well, e

specially in football. I think that, for example, in England and Scotland or even in K1 and K2, what differentiates the difference between winning and losing a game is the mentality and your mind. When performance and tactics are matched up and equal,

it
's the players or the team that has the stronger mentality that can push through. That's a massive passion of mine to try to learn about. I read the research about it and I think how can I make myself a better person, and have better routines, and about all those of these one percents; how can I sleep better? How can I think better? How can I work better for me to have a better performance?

DL: Earlier, you talked about your experiences with Burton Albion, so what are the key differences in the day-to-day management style between Ricardo Peres and Jimmy Floyd Hasselbaink, your manager at Burton?
RE:
I'm really enjoying working under manager Ricardo Peres and I loved m
y time working with Jimmy Hasselbaink. I think they're both two very good managers. I think tactically, they're two are the best in the world that I've worked with. The manager is very, very good tactically and he knows his football. He's very intelligent. So far, I feel really warm and welcome with the current manager. I think he's been really good at these man-management skills with communicating with the Korean players and the foreign players. There's a good togetherness there. The style on the training pitch I find quite similar.
I'm not sure whether the two of them have done their coaching badges but what Jimmy Hasselbaink did at Burton was quite remarkable and how we got our team to turn around our performances. We did a lot of video analysis and tactical training sessions on how we wanted to play and how we wanted to stop teams playing. We do some similar work here with the current manager where we do a lot of video sessions. We get to see the bird's eye view of how we want to play, how we should stop teams playing and then we go do the work on the training pitch. It's really repetitive and it makes us think a lot about how we should be doing our jobs and I think that both have been very effective.

DL: Many players have praised the training methods of Ricardo Peres, a coach that has a lot of experience coaching in many countries such as Portugal, Greece, and Brazil, and you yourself have 10 years of experience as a football player, mainly in the UK. So in your opinion, what's the difference between training in Britain and in Busan?

RE: The weather! [laughs]. I would say I've been quite fortunate to work with really innovative up-and-coming managers, young managers that are learning themselves and want to improve so they always are changing and adapting. It's the same here with the current manager. It's the same kind of life routine, we are training at the same times that I would in England, and Scotland, training for the same length of time, sometimes an hour and a half training session, sometimes a two-hour training session, depending on the information and what you want to get out of in that day. We do some gym training sessions, which didn't happen so much in England because the schedule was repetitive. After the Saturday game there's a game on Tuesday, and there's a Saturday game again so there weren't so many gym sessions, but the level of strength and conditioning and gym sessions have been of equal quality, equal information, which has been good.
What I like here in Busan is that the current manager is incorporating more new ways of how to get the best out of us. We do weekly meditation, weekly yoga, which I'm a fan of. I've been doing this for three or four years myself in my own environment. I find yoga keeps you calmer, it helps you strengthen your muscle, strengthen your core to prevent injury. Meditation is great to keep you present to keep you calm. If you do this small habit every single day, it'll help you on a training pitch to be more "in flow" or to be not thinking about anything else but in your own job. So incorporating that in the team environment is the first I've seen in a football clu
b.
I think that basketball teams in America do it so I think football is slowly catching up to these new ways of
coaching. There's a small difference there, but generally, the football stuff is quite similar.

DL: What changes have you made to your game in moving to K League?

RE: It's a good question. What I found in my time in Scotland and England, I played more often than not in an attacking midfield position and was asked for me was to press really high on the pitch. We liked high-intensity pressing and I would do a lot of that in the game for us to retain the ball, and then we would continue attacking quite high up the pitch. In England, the style of football is different to the K League, where it's more direct football, more long balls, and second ball game, where you have to not so much worry about the slow build-up from defense to attack, it's more in your attacking half and more of like a battle than a fight.
One main reason why I wanted to experience something new for myself was to learn a new style of football or relearn a style of football because when I grew up in Australia, with almost like a Dutch system, we learned how to play the style of football; passing football, progressive attacking football, so to come to play for a Portuguese coach, a European manager in a really good football team really excited me. What I've noticed so far in my games is that I'm relearning a new style where I can get more on the ball and make more passes rather than worrying about thinking differently about how the long ball or the second ball. While continuing to do my pressing and continuing to get the second ball, I'm now able to maybe scan a little bit more, receive the ball with a pass rather than a long ball. I find the way the manager has it set up that, for example, in the last few games, Domagoj [Drožđek], [Park] Jeong-in, and [An] Byung-jun's high press has been really good. I was the one doing that in England so now I can focus more on my midfield duty. So there are some small differences, which I'm happy to be doing.